Once you know there's fresh snowfall, it's impossible to resist the lure of the mountains. There's no time to squander when you've scheduled time off or packed a busy work week to allow for a weekend of skiing. It would help if you transported our skis to the slope.
And to do so, you've spent a lot of your tireless money and hours of your valuable time selecting a pair of skis or a snowboard that will convert you into a pro. But then you're stuck bending down the backseat, carefully placing everything, and cramming passengers like they're on an overloaded subway vehicle. When everything is said and done, you're left with a pool of melted, filthy water in your car.
Add a new ski carrier to your vehicle to prevent all the effort and clutter within your car the next time you go skiing. They're simple to pack, keep things secure while traveling, and most include a lock to keep your valuables safe. Continue reading to learn more about ski roof racks.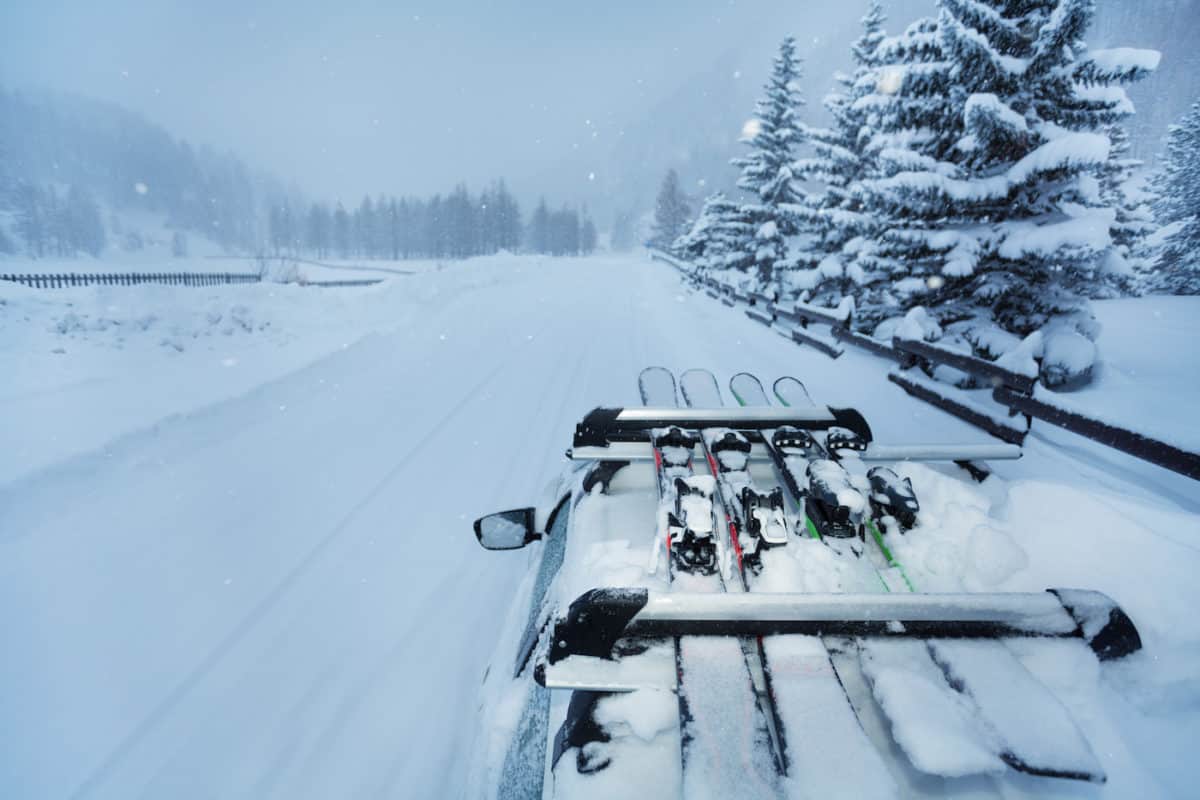 What Is a Ski Roof Rack?
A roof rack is an additional storage space installed on the roof of a vehicle to transport heavier objects such as kayaks, large containers, and many others. Roof racks are an excellent companion if you intend to go surfing, skiing, camping, or other outdoor activities. The roof rack is not a normal automotive accessory; it is something to consider if you want more storage space.
A simple ski rack for a car is a device used to secure and carry skis on a vehicle's exterior roof. In most situations, ski racks are designed so that they may be temporarily attached to the top of a car or truck. There are, however, methods for permanently connecting the roof rack ski holder.
Ski roof racks are only one form of sports rack frequently used to transport sporting equipment. Together with ski racks, snowboard roof racks are also trendy.
Pros of Having Ski Carrier 
Some advantages of having the best ski racks are that they are easy to install and give ample space to your car when you do not have enough space inside the vehicle.
Greater Space 
A ski carrier roof rack is ideal if you don't have much room. It enhances your car's storage capacity and expands legroom within the vehicle, making it a dependable and robust way of carrying sporting and other equipment.
Ease of Installation
A ski rack's general installation normally takes only a few minutes. After aligning the protecting cushions and positioning the rack's body, the entire frame is attached with a series of clips. The rack's hooks allow the equipment to be firmly fastened to the weather stripping. Because the pins do not slide, the frame will remain in place until the device is removed from the car's roof.
Durable Protection
Ski roof racks are now built of the most durable materials, such as aluminum and steel alloy rims or the finest plastics. These materials' presence extends the racks' life and improves their all-weather resistance. They will likely cover your trips all year round because of their long life. Furthermore, some firms provide a 3- to 4-year warranty on the same polymer material used in your car's roof racks. This guarantee provides you with simple access to a speedy replacement in the event of damage.
Water Retaining Qualities
Ski racks for the cars are recognized to withstand the forces of weather and provide complete protection for our important vacation bags. The most important security it offers is against severe rain and frost. Roof rack materials are less susceptible to humidity generated by rain or snowfall, preserving the delicate objects placed inside.
Loaded with Other Features
The current storage rack includes characteristics such as LED lights (which illuminate the camp after the sun sets), water and temperature resistance, a roof rack that can withstand tough terrain, and so on. It is simple to load and unload these racks.
Possible Problems of Having Ski Carrier
Apart from the benefits of having ski racks over your cars, you should be concerned about the probable difficulties these roof racks can bring. Some of the problems can be-
Can Harm the Paint Work of Cars
The most common concern about installing a ski holder for a car is that the device would harm the paintwork on the car's roof. While this is conceivable if the rack is not correctly placed. Most rack designs contain safety pads that shield the rack's frame and the paint job finishing. If the pads are properly aligned before the rack is hooked, the possibilities of paint scratches are minor at best.
Can Be Noisy
Having roof racks on your car might be a loud experience. This may seem insignificant when driving on a level road. Still, the issue becomes serious when you cross a cliff or terrain. Because of its aerodynamic layout, the whistling noise may sometimes be quite bothersome for both the driver and the passenger. You may always purchase an improved version to lessen the noise impact, but nothing can be reduced to zero.
Can Be Heavy for Small Cars
Ski car carriers are all built of lightweight metals, while some are made of large iron staffs and steel, adding weight to the cargo it bears. This weight will affect your driving and cause the steering wheels to waver constantly.
Can Increase Fuel Consumption
The added weight of the hefty load carried by the ski roof racks puts undue strain on your car's mechanical components, such as the steering and wheels. As a result, the automobile requires more gasoline to overcome the stress, resulting in higher fuel consumption. The rack's aerodynamic form creates additional air resistance, which boosts fuel consumption.
Final Words
Several solutions are available on the market for carriers that may be attached to your vehicles, such as ski boxes and racks. WKeepthese benefits and drawbacks in mind for whatever frame you choose while selecting the best car ski carriers.